The low FODMAP diet has become increasingly popular as research suggests it can relieve symptoms for 50-80% of individuals suffering from Irritable Bowel Syndrome (IBS) (1). Unfortunately, some IBS patients continue to experience digestive discomfort despite carefully following a low FODMAP diet. Does this sound like you? If so, keep reading to learn how FODMAP stacking may be the culprit of your symptoms!
What are FODMAPs?
The acronym FODMAP stands for Fermentable Oligosaccharides Disaccharides Monosaccharides and Polyols. These are categories of carbohydrates that are poorly absorbed in the small intestine and then are fermented by gut bacteria in the large intestine. For some people with IBS or digestive issues, the gas produced from such fermentation causes symptoms such as abdominal pain, bloating, distention, gas, constipation, or diarrhea. Additionally, they pull water into the digestive tract which can also trigger gastrointestinal symptoms (2).
The low FODMAP diet should only be followed with the guidance of a gut specialized Registered Dietitian as it can be highly restrictive, may reduce healthy gut microbes, and tends to limit fibre which is important for preventing type II diabetes, heart disease, and for supporting overall health (4).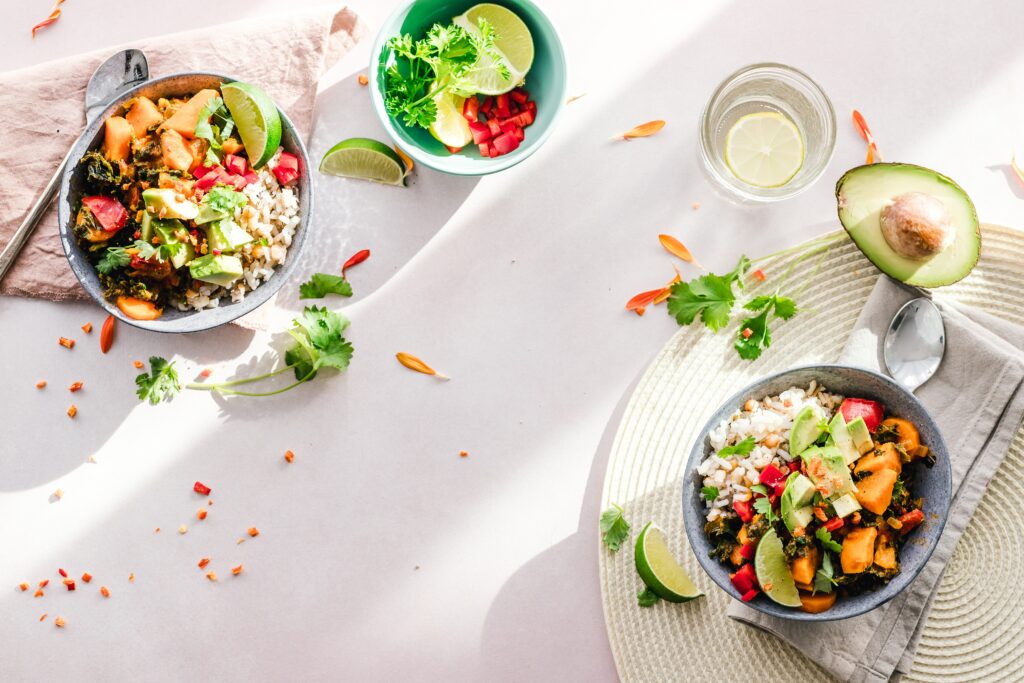 What is FODMAP Stacking?
FODMAP stacking occurs when you eat multiple sources of the same type of FODMAP in a short time, which when added together cause symptoms. It is important to remember that low FODMAP foods still contain some FODMAPS!
Therefore, if you eat large amounts of the same low FODMAP food, or include several low FODMAP foods from the same category at once, your meal may have accidentally became high FODMAP (3). For example, almonds and green peas are both generally considered fairly low FODMAP foods. However, they both contain some galactans (a type of FODMAP). By eating almonds and peas at the same meal or within a few hours together, you can consume enough galactans to trigger IBS symptoms. What matters in the case of FODMAP stacking is the FODMAP content of your overall meal, not that of each individual food.
Who Should Be Concerned About FODMAP Stacking?
Not everyone needs to worry about FODMAP stacking. In our experience, it is typically the clients with the most severe IBS symptoms that may be bothered by FODMAP stacking. For many people with mild to moderate IBS they are able to minimize symptoms on a modified low FODMAP diet which just limits the highest quantity FODMAP foods, and are never bothered by FODMAP stacking.
If you have had IBS or severe digestive symptoms for many years, or if you are experiencing very significant symptoms (urgency, severe diarrhea, excessive bloating and abdominal cramping) you may need to be mindful of FODMAP stacking. Our recommendation is typically not to worry about it unless a client notices either a lack of improvement in symptoms or a resurgence of symptoms during their FODMAP elimination phase.
How to Avoid FODMAP Stacking:
Here are some simple strategies to reduce FODMAP stacking:
Spread out your meals: Aim for 3-4 hours between meals (5). This gives your body time to start digesting the FODMAPs from your last meal, before introducing more.
Learn through trial and error: Everybody's gut responds differently to different amounts and types of FODMAPs. What relieves one person's symptoms may worsen another's! It's important not to get discouraged and instead keep track of your unique triggers.
Learn which foods contain which FODMAPs: By educating yourself in the specific types of FODMAPs in various foods, it will be much easier to limit FODMAP stacking. Use the list below as a starting point (1)(6)!
| | |
| --- | --- |
| Type of FODMAP | Example Food Sources |
| Oligosaccharides: fructans and galactans | Wheat, rye, onions, garlic, cabbage, broccoli, inulin, chicory root |
| Disaccharides: lactose | Milk, yogurt, cheese, other dairy |
| Monosaccharides: fructose | Honey, mango, cherries, apples, watermelon, grapefruit, fruit juices, high fructose corn syrup |
| Polyols: mannitol, sorbitol | Artificial sweeteners, apples, plums, cherries, pear, cauliflower, mushrooms |
In our experience, meals that contain several varieties of vegetables or fruits can be the most likely culprits of FODMAP stacking. Examples of this are smoothies, salads and nourish bowls. If you are sensitive to FODMAP stacking, you may find that limiting your meals to contain only 1 source of fruit and no more than 2 different vegetables is helpful.
Sample Menu to Avoid FODMAP Stacking
So, how do we put all of this to practice? Here is a sample day that aims to limit FODMAP stacking:
Breakfast: oatmeal with peanut butter and raspberries
Lunch: Burrito bowl with rice, fish, lettuce, sauteed red bell pepper, lactose free sour cream, lime, and ¼ of an avocado
Snack: lactose free greek yogurt with walnuts, ¼ cup blueberries, and rice crisp cereal
Dinner: small ear of corn, lemon chicken skewers, gluten free bread, chopped carrots and cucumbers
In the above example, FODMAP stacking is reduced in several ways. For one, both raspberries and blueberries contain some fructose. Knowing this, this individual eats them several hours apart to promote easier digestion. They also ensure to stick to the recommended low FODMAP serving sizes of ¼ cup blueberries and ⅓ cup raspberries (6).
This meal plan also modifies lunch in anticipation of having corn at dinner. Since corn contains a moderate amount of sorbitol, they substitute their usual fish tacos on corn tortillas for a burrito bowl with similar toppings. Additionally, they limit their avocado serving size as it contains some sorbitol as well.
Remember that this is just an example and may not suit your unique needs.
The Bottom Line
Overall, FODMAP stacking refers to how the serving size and the timing of different foods can be just as important as whether the foods you choose are high or low FODMAP. Although it can be challenging to limit FODMAP stacking, the tips above show how you can manage it which may, in turn, be the answer to resolving your IBS once and for all. If you are struggling with IBS or FODMAP stacking and need more help, book here or contact us to set up a consultation!
References
Whelan, K., Martin, L. D., Staudacher, H. M., & Lomer, M. C. (2018). The low fodmap diet in the management of Irritable Bowel Syndrome: An evidence-based review of FODMAP restriction, reintroduction and personalisation in clinical practice. Journal of Human Nutrition and Dietetics, 31(2), 239–255. https://doi.org/10.1111/jhn.12530
Fedewa, A., & Rao, S. S. (2013). Dietary fructose intolerance, fructan intolerance and fodmaps. Current Gastroenterology Reports, 16(1). https://doi.org/10.1007/s11894-013-0370-0
Van Oord, G. (2019, July 23). FODMAP Stacking Explained: Do your Food Combinations Trigger Symptoms? Diet vs Disease. Retrieved from https://www.dietvsdisease.org/fodmap-stacking-explained-food-combinations-trigger-symptoms/?gclid=Cj0KCQiA6rCgBhDVARIsAK1kGPLLJbr-vihknpyygqVfkQ-bsYYQPEX9JBmsrnt5vU1YW4atnP1XpEAaAtE7EALw_wcB
Dietitians of Canada. (2017, February 17). Irritable Bowel Syndrome: FODMAP Summary of Recommendations and Evidence. Pen Nutrition. Retrieved from https://www-pennutrition-com.proxy1.lib.uwo.ca/KnowledgePathway.aspx?kpid=23914&trid=23950&trcatid=42
Dwyer, E., McNamara, L., & Varney, J. (2019, April 17). How to Avoid FODMAP Stacking. Monash University. Retrieved from https://www.monashfodmap.com/blog/how-avoid-fodmap-stacking/
Dietitians of Canada. (2019, March 21). The Low FODMAP Diet: Healthy Eating Guidelines. Pen Nutrition. Retrieved from https://www-pennutrition-com.proxy1.lib.uwo.ca/viewhandout.aspx?Portal=UbY&id=J8HqWAI&PreviewHandout=bA