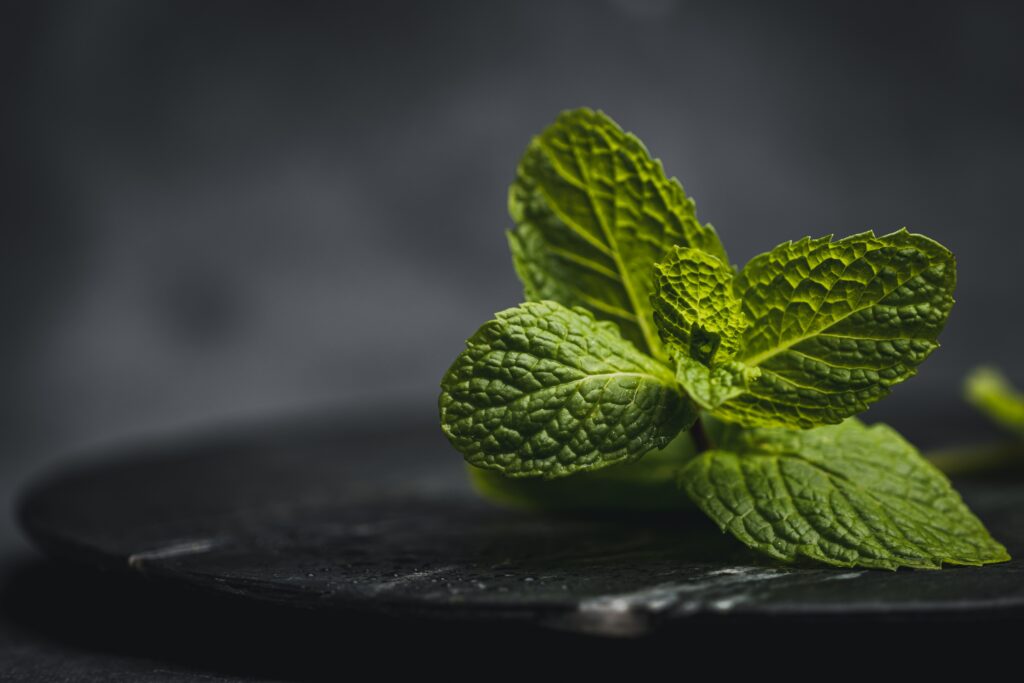 How does peppermint oil impact digestion?
Peppermint oil has been used for hundreds of years as a natural remedy for many GI symptoms (for nausea, indigestion, etc) (1). You may have memories of people around you using peppermint tea or peppermints to settle their stomach. If you're someone who struggles with digestive symptoms, you may be wondering how to use peppermint oil for IBS and the potential impact on your symptoms. Is there any truth to this? Let's dive into it!
The active ingredient in peppermint oil, menthol, works as a natural antispasmodic (2) – it relieves muscle spasms. Our digestive system is lined with what is referred to as "smooth muscles" (1). These muscles aid in digestion by controlling the movement of food through our digestive system from start to finish. This process is known as peristalsis.
Sometimes, with IBS, these muscles can contact too often and the contractions can become painful, an experience that we refer to as spasms or cramping which can also be associated with bloating and nausea. Studies show that peppermint oil can improve these IBS symptoms by reducing the painful smooth muscle spasms (1,2).
How to use peppermint oil for IBS:
We want the peppermint oil to make it all the way down to the lower GI system (the small intestine and colon) before it starts acting to relax our smooth muscles (1,2). The way we can do this is by using what's called an enteric-coated capsule. "Enteric-coating" is something often done to medications to allow them to reach the intestines before being broken down – they are able to withstand the acidity of the stomach and not be released until they reach the intestine (1).
This is a very important factor when it comes to choosing a peppermint oil supplement! Choosing one without an enteric-coating makes it more likely that someone will experience heartburn (1). Why? It comes down to those smooth muscles and the way that peppermint oil acts. If it acts on the sphincter (which is a ring muscle) between your esophagus and your stomach (known as the lower esophageal sphincter), it can relax the sphincter and allow the splashing up of stomach acid as the stomach contracts (1) – see Peppermint Oil and IBS Diagram). This causes a burning sensation that we refer to as heartburn.
What about other menthol-containing substances?
Peppermint Oil: It is not recommended to take peppermint oil as a liquid supplement (i.e. straight peppermint oil). It is a very strong substance – it can cause negative side effects including mouth sores, headaches and its tendency to cause heartburn.
Peppermint Tea: Peppermint tea does contain menthol, but because of the way it's consumed (remember, menthol acts on what it touches) it is likely to act too high on your GI tract and not provide relief to the lower GI system where your issue is! Additionally, peppermint tea can contain differing amounts of menthol depending on how it is steeped, how many leaves are used, etc.
The Takeaway: Taking peppermint oil as an enteric-coated capsule means that you're getting the same dose of menthol (the active ingredient!) every time and that it acts in the right place to provide symptoms relief (1).
The best time to take peppermint oil capsules:
The best time to take peppermint oil capsules to reduce abdominal pain/bloating related to IBS depends on what your symptoms are usually like.
For people with ongoing bloating/abdominal pain it is recommended to take peppermint oil capsules as a preventative approach. Peppermint oil for IBS dosage is 1-2 capsules 3 times per day, 15-30 minutes before each meal with the goal of gradually reducing use after 4-6 weeks (1). It can take a week or two for it to take full effect so It is suggested to start with 1 capsule 3 times per day and increase to two capsules if one isn't providing adequate relief (3).
It's important to talk to your doctor before starting any supplements in case they interact with other medications you're taking and to avoid negative side effects – if you're considering taking a peppermint oil supplement, talk to your doctor or dietitian first.
Peppermint oil capsules can be one piece in improving IBS related symptoms but there are so many other potential pieces to that puzzle! Consider booking an appointment with one of our amazing dietitians to learn about other interventions you can use to improve your life and your symptoms.